Yokohama has developed as "the first international port in Japan". For that reason, it is necessary to satisfy the "taste" of all these people, from the world to sailors who come to Yokohama, travelers, diplomats. (In the past, all the embassies, such as the British Embassy, all existed in Yokohama for a long time)
And in Yokohama there is the biggest and famous Chinatown in Japan.
In Toukaen you can enjoy tradition and history, the best Chinese cuisine refined in Japan.

Yokohama has the largest Chinese town in Japan. So, there is an image of Yokohama = Chinatown.
You came to Yokohama! Therefore, I must enjoy Yokohama (Chinese cuisine).
The long aged Shaoxing wine (Chinese liquor) pumped up from a big bottle is the best.
Please enjoy the best sake, Yokohama, for the best Chinese cuisine at Toukaen.
While enjoying various drinks, please discover "your own combination" that fits the dishes.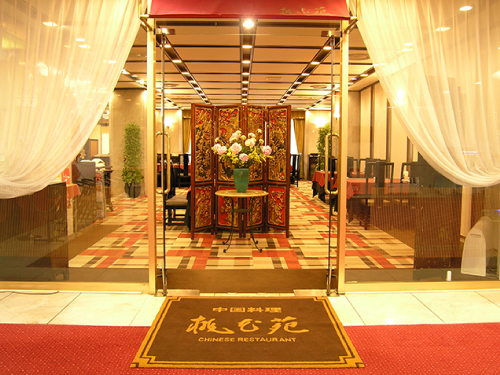 Business hours

【Lunch】
Lunch opens at 11:30 AM and closes at 3:30 PM.
※ Last call for food/alcohol at 2:30 PM.
【Dinner】
Dinner opens at 5 PM and closes at 9 PM.
※ Last call for food/alcohol at 8:30 PM.

Address

Hotel Yokohama Camelot Japan 2F
1-11-3, Kitasaiwai, Nishi-ku, Yokohama-shi, Kanagawa 220-0004, Japan

TEL

+81-45-312-3490  (045-312-3490)
*The staff can speak only Japanese.
If you want to speak in English please call the hotel Yokohama Camelot Japan.
Tel +81-45-312-2111 (045-312-2111) You can also ask about "Toukaen".
You can arrive from Yokohama Station in 5 minutes on foot.
But...Yokohama station is difficult structure so much that Japanese get lost.
If you can not speak Japanese, please aim while listening to the "JOINUS underground shopping street" to Yokohama station staff.
There is an information center (manned counters) at the entrance of the JOINUS underground shopping area.
It is most convenient to ask the staff of the manned counters about the location of the Hotel Yokohama Camelot Japan.
The place where I left "South Exit 12" is the goal.
Japanese signs/「Gate name」a name of a hotel:
「南12番出口」 ホテル横浜キャメロットジャパン
Showing this character to the Japanese is smooth.